Have you been searching for the perfect addition to your wardrobe woes that bridges the gap between modern and classic styles? Tired of having to settle for one or the other? Most of us have been there at least once, with our closets full of clothes that we love but don't always feel confident wearing. But what if there were a clothing brand out there that could give you the best of both worlds?
Even while we enjoy following the most recent fashion trends, there is much to be said for timeless clothing pieces. And the wide range of comfortable Ringers western clothes strikes the perfect balance between the two.
Why Choose Ringers Western Clothing?
Despite the relatively new establishment of the company in 2012, Ringers Western has slowly but surely slithered its way into the hearts of fashion-savvy people all over Australia and the world. With a plethora of stylish and comfortable garments on offer, it's not hard to see why this brand has become a firm favourite among many.
Source: headstotails.com.au
One of the main reasons why it's taken off in such a big way is the long-lasting and high-quality nature of the clothes. The stitching is impeccable, with each item of clothing designed to flatter all body types – something that's not always easy to find.
Contrary to popular belief, western clothes aren't necessarily those uncomfortable and cumbersome get-ups that you might imagine. In fact, many items in the collection are super lightweight and breathable, making them perfect for those long, hot days spent outdoors.
Even if you're not actually spending much time out in the sun, casual Ringers western clothing is still comfortable enough to lounge around the house in. So whether you're going for a walk, hitting the shops or just relaxing at home, this type of clothing will see you through all sorts of activities.
What Items Can You Find at Ringers Western?
If it's versatility and comfort that you're after, then look no further than Ringers Western. This go-to brand for many offers a whole range of stylish wardrobe staples that will have you covered no matter the occasion.
Button-Down Shirts
A real trademark of country-style clothing, the button-down shirt offers a timeless look that can complement any outfit. If you're going for a more relaxed vibe, then you can simply leave a few buttons undone at the top. Or if you're wanting to appear more put-together, then tuck it into a pair of high-waisted jeans or shorts and add a belt.
The best thing about these shirts is that they come in a multitude of colours and patterns, so you're bound to find one that suits your taste. And with both short and long-sleeved options available, you can wear them all year round.
Pullover Hoodies
Is there a better feeling than huddling up in a cosy hoodie on a chilly day? Surely not. As much as regular hoodies have their place, there's something about a western-style one that makes them even more comfortable and practical.
Source: chubbiesshorts.com
These hoodies are designed to keep you warm without being too bulky, and they often come with handy features like front pockets and drawstrings. The more neutral colours like black, white and grey are ideal for throwing on over any outfit when you're in a hurry. Alternatively, if you want to make a stronger statement, go for one of the brighter shades or patterns.
Dresses
Looking for something a little more feminine? Believe it or not, you can find some gorgeous dresses in the western wear collection. These are perfect for wearing on those days when you want to look good but still have the freedom to move around and be comfortable.
The vast majority of the dresses are designed with a flattering A-line silhouette, which is ideal for all body types. Frequently, the hemline ends just above the knee, resulting in a look that's both stylish and practical. And like all Ringers Western clothes, they're designed to last – meaning you'll get plenty of wear out of them.
Vests
Perhaps a lesser-known item in the western wardrobe, vests are actually incredibly versatile and can be worn in a variety of ways. The nylon and polyester fabric has a lightweight feel, offering a great option for layering during the cooler months.
A true embodiment of the western look, these vests come in a whole host of colours including classic black, brown and denim. They often feature intricate stitching and embroidery, giving them a unique edge.
Jackets
Is there anything that screams country clothing more than a sherpa-lined jacket? They are not only very fashionable but also incredibly warm and useful. The inner lining is usually made from a thick material, usually wool or fleece. Both of these materials are great at trapping heat and wicking away moisture, offering a solid layer of protection from the cold.
Source: cordings.co.uk
If you want something a little lighter, then a traditional denim or bomber jacket might be more up your alley. These are perfect for those transitional days when the temperature is just right for a t-shirt but not warm enough for a sherpa coat.
Classic Fit Jeans
Last but definitely not least, a pair (or two) of well-fitting jeans are an absolute must. After all, they are the quintessential item of clothing for cowboys and cowgirls for many years.
There are several ways you can combine your western jeans to create different looks. If you're going for a more casual feel, then team them up with a monochromatic or minimalist t-shirt. For a smarter outfit, pair them with a button-down shirt or blouse. And if you really want to bring on the glamour, then why not try tucking in a sequinned top?
Additional Giftware and Accessories
Sure, the clothing is great. But Ringers Western doesn't stop there. They go above and beyond to give country folk and enthusiasts everything they need to complete the look.
Hats
There is no doubt how well a good cowboy hat can complete a look. The classic fedora style is a good place to start, but you can also find options with wider brims if you prefer.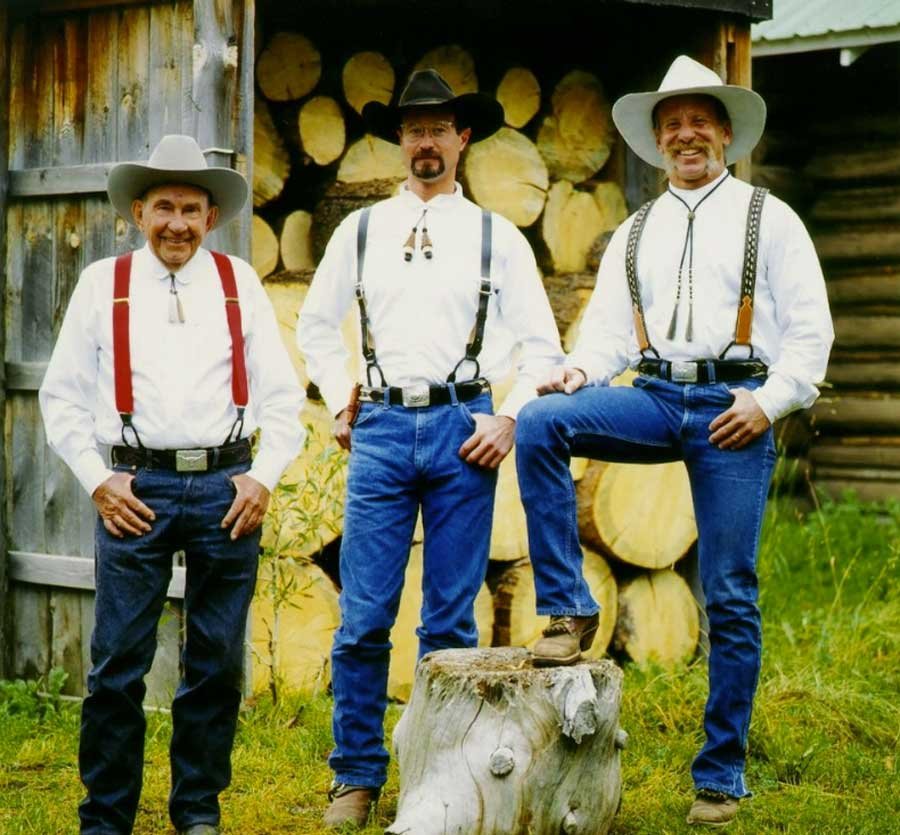 Source: pinterest.com.au
For instance, the Outback hat offers greater sun protection and has a wire rim that can be moulded to your liking. And if you really want to step up your game, then the Rancher hat comes complete with feather detail.
Stubby Coolers
We all know how refreshing a cool drink on a hot day can be. But if you don't have a way to keep your beverage icy cold, then it's not going to taste nearly as good. This is where a stubby cooler comes to the rescue.
Not only will it keep your drink at the perfect temperature, but it also allows you to have it within easy reach at all times. No more rummaging through your bag in search of your beverage only to find it's warm. Just pop it in the cooler and you're good to go.
Bags
Offering both tote and duffle bags, the Ringers western store has your luggage needs sorted. The tote bags can be used for everyday items such as your laptop, books and gym gear. And the duffle bags are perfect for weekends away or longer trips.