Congratulations on your engagement! Perhaps you're reading this because you're ready to take things up to the next step for your wedding. And the subsequent part has to do with planning!
If you plan to have your wedding this year, it's about time to start thinking about one crucial thing: the color theme. Choosing your wedding theme may seem like a straightforward decision to make. But it sets the whole wedding in motion.
The choice will frame your decisions on the unique flower trends you want to use, the stage/hall design, and the dresses of your entourage, among other things.
With that in mind, here are five wedding color theme ideas to make your big day pop:
1. Shades Of Blue
Shades of blue are exquisite and a stylish theme for a wedding. They're cool on the eyes, very calm, and relaxing. If you go for this shade, they can even encompass your 'something blue' for those brides who wish to follow the traditional significance of this symbol.
'Something blue' is a tradition during weddings for the bride to have something in the shade of blue that's sentimental or an essential piece of the wedding. Following custom, this 'something blue' symbolizes purity, love, and fidelity.
Moreover, there are many ways to go with this hue, from saturated tones, light blue, and periwinkle, to neutral colors with an accent of royal and dusty blues.
The great thing about shades of blue is it's so easy to incorporate in your wedding. You can use these colors any season or moment of the day compared to other colors that only suit certain time or period. Also, you can have the color for your entourage dresses, plates or chinoiserie, and silk bouquet ribbons.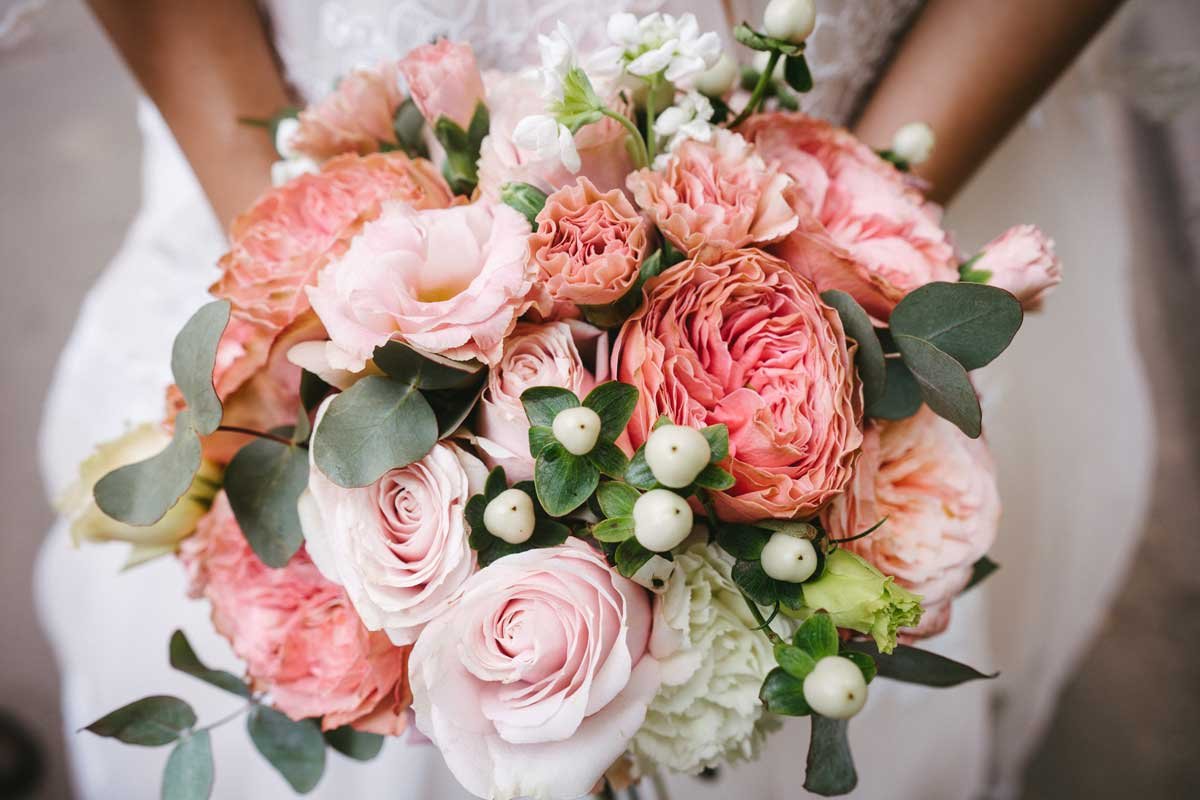 2. Cinnamon Rose And Dusty Rose
If you love pink, then going for more subdued pinks in cinnamon rose and dusty rose is a great way to have your favorite shade on your wedding day. That way, it's still within the pink range, which can offer a soft and mellow energy to the occasion.
Along with using cinnamon rose and dusty rose, here are insightful tips on how you can pull off wearing pink on your wedding day:
Combine various shades of pink
Put in cinnamon rose and dusty pink with different shades of pink, like salmon pink, guava pink, blush pink, or coral pink. This move will also add drama, depth, and dimension to your wedding.
Mix pink with other colors
If going all out with pink isn't your thing, then you can also pair it up with other colors. Cinnamon rose and dusty rose work well with a rustic theme by incorporating them with brown, navy blue, beige, and gray.
3. Sage Green
You don't have to feel pressured thinking about the best months to do a wedding if you're yet to decide on the date. You may consider colors that work any season of the year, such as sage green.
When you go for anything green, your goal should be to bring the outside in. So, have elements from the outside – like greenery, and bring it inside your venue. On the other hand, if the wedding location is outdoor, you may highlight such elements by decorating your wedding venue with plants and flowers.
But be cautious with your choice of greenery. Avoid choosing an item that'll go against the rustic and relaxed vibe of sage green and brings in the more tropical and Hawaiian vibe.
Here are some ideas on how you can have more sage green details during your wedding:
Have an outdoor ceremony, as the grass will instantly give you a green carpet to walk on, without the need for putting anything over it;
Use eucalyptus for little details, like embellishment on your welcome signage;
Have your bridesmaids wear sage green, as this is a color that suits most skin tones.
4. Bright Colors
If you want to go all out and bright, then nothing should stop you. Bright colors are almost always a no-fail, given that weddings are happy occasions. Especially if you intend to have your wedding in the warmer months, sunny, spring flowers are nice to have.
Think anything bright! You can choose from canary yellow, orange, fuchsia pink, and even light green. Using these bright colors, you can always mix and match and be creative.
There are so many ways to bright colors, from having vibrant table runners to patterned dinner plates, and even a dazzling theme for your bridesmaids' dresses and flowers.
5. Pink, Blue, And Ivory
Pink, blue, and ivory are the perfect color tones to have when you want to go for a pastel-themed wedding. Why stick to just one color when you can mix and match different ones?
You can create balance by adding a color like ivory to pastel blue and pink, which can keep things muted. Also, you can do this step for your bouquet, the floral arrangements all over the wedding site, and even the wedding stationery or invites. Bridesmaids can come in pink, the groomsmen in blue, and the bridal gown and groom suit in ivory.
Conclusion
As you can see, couples have many options when it comes to wedding color themes. Your decision may depend on the popular colors of the year, the all-time good colors, or even your favorite color as a couple.
You can also decide based on the overall theme and season, like if you're having a bright summer wedding, or you prefer a more rustic and subdued hues in winter. But, at the end of the day, the choice really comes down to you. Whatever the color, make it yours. This is your wedding after all.