When it comes to entertainment, then it hardly matters which country a particular show belongs to. Like many cartoon characters, there are top-rated television shows like Princess Agents from China. This show is adapted from the novel named 11 Chu Te Gong Huang Fei. The credit for writing the wonderful script goes to its author Xiao Dong Er.
This Chinese show has a wonderful star cast including the mainstream Zhao Liying, Li Qin, and others. The streaming of this Chinese television show came in the year 2017 from June to August. Princess Agents is yet not finished and is at a halt with its latest concluding episode. Till now there has been no such official announcement of its sequel.
Coming on to the rating of this TV show, then it is indeed a success garnering more than 30 billion viewership on top streaming sites of China including Tencent. Let us know more about this historical, action, and romance show in this article. We will also find out whether there is any scope for early release of the second season of Princess Agents in the present year or ahead. Let's check out:
Show Details
| | |
| --- | --- |
| TV Series: | Princess Agents |
| Genre: | Historical fiction, action & romance |
| Written by: | Yang Tao, Jia Wen & Chen Lan |
| Based on: | 11 Chu Te Gong Huang Fei by Xiao Xiang Dong Er |
| Place Of Origin: | China |
| Starring: | Zhao Liying, Lin Gengxin, Shawn Dou & Li Qin |
| Original language: | Mandarin |
| Number of seasons: | 1 |
| Number of episodes: | 58 (Uncut), 67 (TV version) |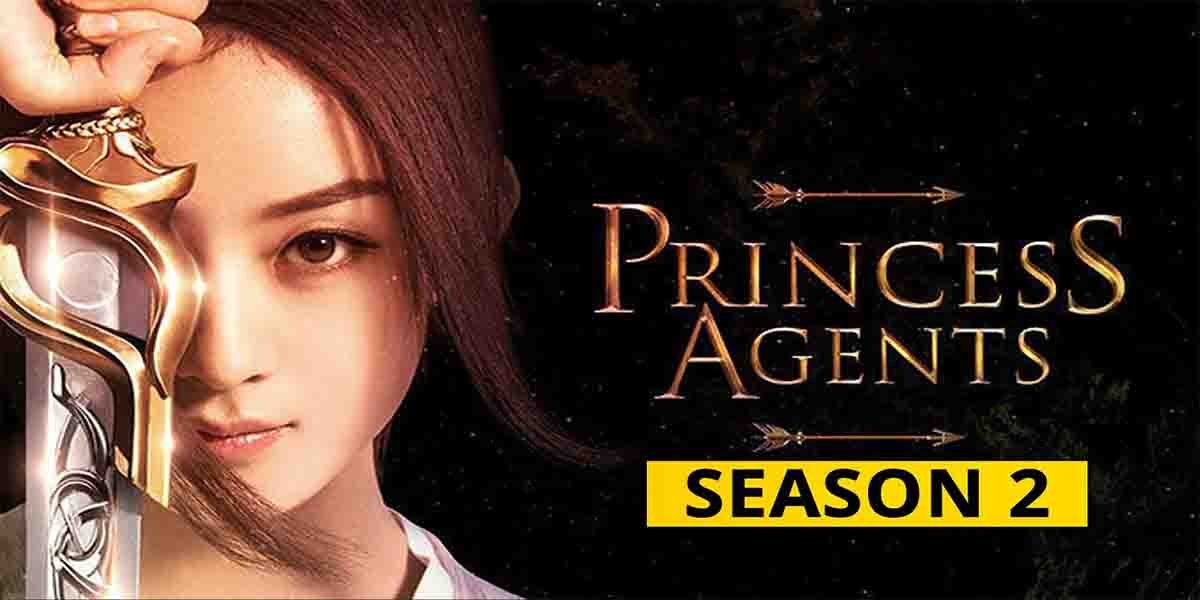 Story Plot
Princess Agents follows an interesting storyline revolving around the turbulent era of a dynasty founded by Tuoba. Under his dictator rule, people were made slaves after getting abducted. One such slave girl is Chu Qiao, played by actress Zhao Liying. In the first season, she is shown being thrown into woodland with other slaves. She is the prime focus to be hunted by the affluent section of people. However luck favors her and she gets protected by the Yan, the Northern Yan prince, and Yuwen.
After getting saved from the cruel rich lords, she is taken to Yuwen Manor and becomes familiar with the struggle of cut-throat power. Chu comes under the vision of Yuwen and takes hard training. In between, she develops a bond with the prince of Northern Yan, Yan Xun. She also meets with the Liang prince Yuan with a cheerful nature and a spy Xiao. 
Sadly, there comes a tragic twist. The plotting of rich nobles in the Tyoba Wei dynasty led to the massacre of the family of Yan Xun, and to blacklist them as traitors. After experiencing such an inhuman incident on his family, Yan aims to take revenge on these rich nobles for causing great harm to his people and family. In preparation for that, he turns very cruel. 
Yan even leaves princess Yuan at the auspicious time of their marriage ceremony. This results in her downfall and the disability of her brother. Later on, he even becomes suspicious of Chu's character and takes advantage of her loyal character multiple times. With this turning approach of Yan, it spoils the close partnership which she made with him at the time when she was saved by him from getting hunted by rich nobles. 
Combating Yan Xun, The Northern Prince Whom She Trusted Once
Deeply hurt by the man in whom she once put faith, Chu decides to end the tie with the Northern prince Yan, and instead makes up her mind to combat with Yuwen and dismantle the evil plans of Yan. So this is the crux of the story that I have mentioned. 
You might call it a spoiler, but it is necessary to have an idea about the concept of the television show. Now the remaining storyline will continue after the release of the second season of Princess Agents. So let us find out whether there is any possibility of the release of Princess Agents season 2 or not. 
About Mainstream Cast
Apart from the engaging storyline, it is the actors who make a television show worth watching. Before we move further about the update of Princess Agents' second season, let us know briefly about the actress Zhao Liying who plays the mainstream role of Chu in this historical action drama romance show. 
Zhao Liying
Born in 1987, Zhao is a popular actress from China. Apart from acting, she is also into singing. Apart from her role of Chu in the Chinese television series Princess Agents, Zhao has proved her acting mettle in other TV shows including Legend of Lu Zhen, The Mystic Nine, and last year's show Legend of Fei. She has also starred in several films including Mudan Pavillion, Royal Treasure, Love Killed Nine River Hall, and The Monkey King 3.
Chinese actress Zhao made a declaration of her marital bonding with an actor Feng Shaofeng. In March 2019, she became the mother of a boy. Their relationship did not succeed further and ended in divorce in April 2021. This ends their two-year marriage. If you are a great fan of Zhao, then you need to know that there is a wax statue of her in Madame Tussauds in Beijing. 
Zhao has also appeared in short-length films like Love of Jasmine, The Real Illusion, Goodbye, Wang You Jiu Guan III, and others. Watch all of her starred television series and movies, and you will get to know about her acting prowess. Her enchanting beauty will certainly make you glued to the screen. 
Renewal Of Princess Agents Second 2
Princess Agents garnered an immense fan following due to its engaging story script. With the first season, this historical action with romance became one of the most-watched Chinese shows. However, despite the tremendous response from the viewers, its fate is still hanging around. Why I am saying this is because till yet the people behind the creation of this fabulous television show have not given any updates on its sequel release. 
Even though this historical Chinese show has a good gripping storyline, still, it got mixed opinions from the people. The show faced criticism for its pathetic implementation. Despite gathering a good rating on IMDb, still, the fate of the show's return is uncertain. We can expect the renewal of Princess Agents' new show by the year 2022.