Dave Chapelle is a popular American comedian and actor who's commonly known for his comedy skits and live stand-up comedy shows.l. He's also been ranked as the 9th best stand-up comedian by the "Rolling Stone" back in 2017.
He started pursuing a career in comedy while he was still in high school and eventually made his debut by acting in movies such as "Robin Hood: Men in Tights" and the stoner comedy "Half Baked".
With his oddball sense of humor and his versatility as an actor, Chapelle was able to get the attention of everyone and was able to get more acting gigs to boost his career.
By 2003, Chapelle then made his big breakthrough when his television series "Chappelle's Show" aired on Comedy Central. It was able to air for its three seasons until Chapelle suddenly traveled to Africa to get a break from everything.
He later went back into the limelight in 2013, and toured as a stand up comedian and even made a few specials on Netflix. If you want to know more about this famous comedian the keen reading as we'll show his net worth, career, personal life, and more.
Early Life and Childhood
David Khari Webber Chapelle was born on the 24th of August 1974 in Washington D.C. His parents, Willian and Yvonne, both worked as a professor at different schools.
They then had a divorce while Chapelle was still six years old which forced him to split his time between his parent's separate homes.
While growing up, he started watching "The Cosby Show. The show inspired him to someday become a comedian like Bill Cosby and Eddie Murphy.
He then had his education at the "Duke Ellington School of the Arts". Chapelle majored in Theatre arts while also did a few stand-up routines in the sideline.
Career and Becoming an Actor
Once Dave was able to graduate, he proceeded to New York City to debut as a stand-up comedian in the Apollo Theatre. He wasn't able to gain much success from there and was even booed off stage at one point.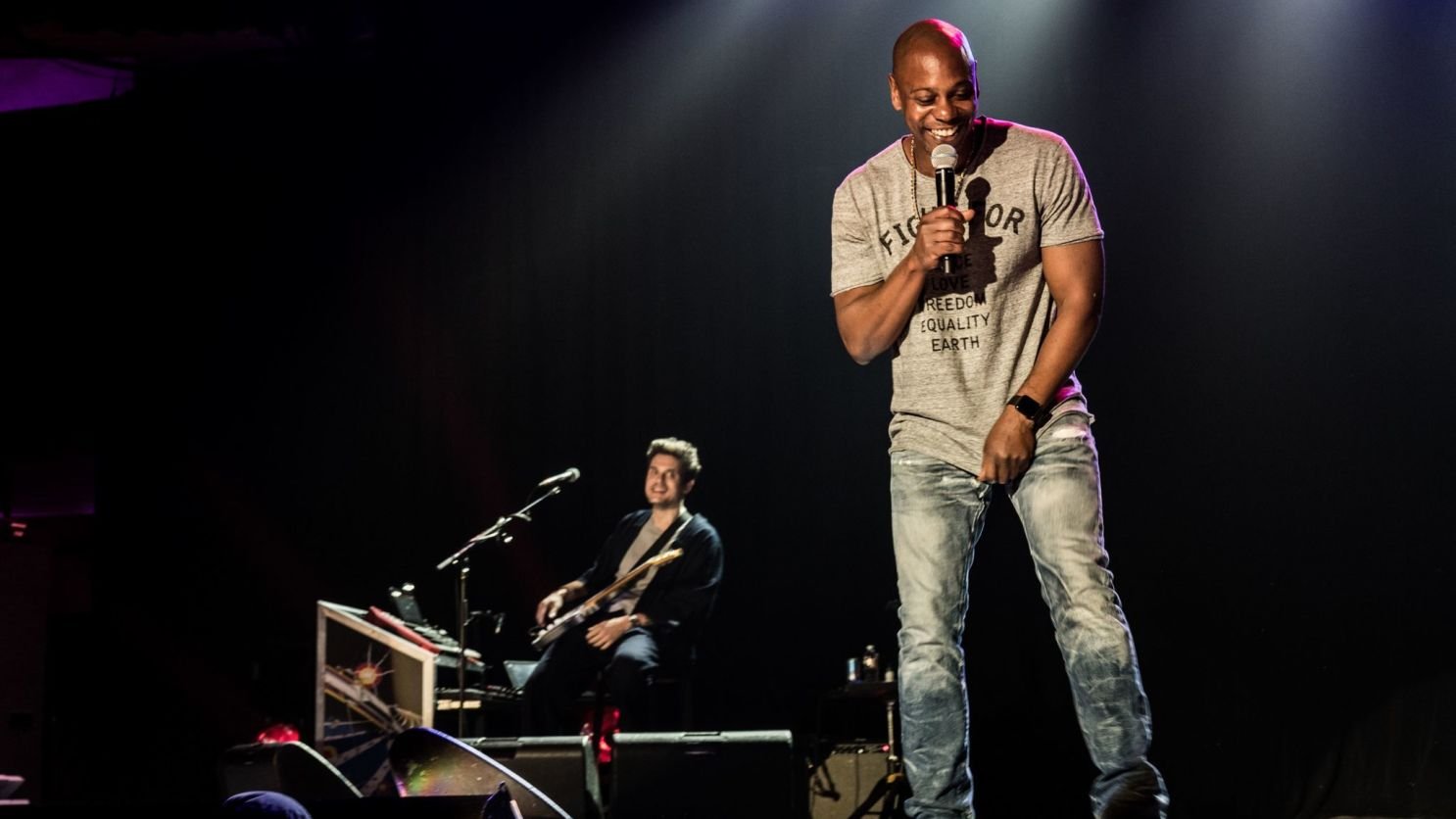 Chapelle used this to encourage himself to continue his aspirations in comedy and was eventually able to get his film "Robin Hood: Men in Tights" as the character "Ahchoo". By 1994, he was able to get an appearance in the sitcom "Home improvement" along with Jim Breuer.
He was then able to have a leading role in the 1996 hit film "The Nutty Professor". This let him work alongside one of his inspirations in comedy, Eddie Murphy.
Chapelle was then able to get more acting roles such as the 1997 film "Con Air", the stoner comedy "Half Baked", and in the 1998 Romance-Drama "You've Got Mail". By 2000, he had a slot in HBO to air his stand-up comedy show "Dave Chapelle" Killin' Them Softly"
Dave Chapelle's Show and Sudden Retreat
In 2003, Comedy Central aired a weekly comedy show called "Chapelle's Show" with Dave Chapelle being one of the show's producers and actors.
The sketches mainly portrayed parodies of American culture. And also featured several prominent comedians such as Mooney and Murphy.
The show became so popular that Viacom even offered Chapelle a contract worth $55 million just to run the show for two more years and allow him to do other side projects. 
Due to the show's popularity, Chapelle became fatigued with it and even said in one of his stand-up shows that the show was ruining his life. He found it difficult to work for 20 hours a day. It was also hard for him to continue his stand-up career, which was the most important career or him.
When Chapelle couldn't handle it anymore, he suddenly left mid-production of the third season of the show to take a trip to South Africa. He said he didn't like where the show was going and he needed some time off due to all the stress.
Career Comeback and Continued Success
Chapelle did a few comedy tours to promote his documentary film "Dave Chapelle's Block Party". This became a huge success and had a gross total of $11.7 million.
The following year, he also made an endurance record by doing almost 4 hours of stand-up comedy. This was in the "Laugh Factory Comedy Club".
He then made a career comeback in 2013 as a full-time stand-up comedian by becoming a headliner in the "Oddball Comedy & Curiosity Festival". The following year, the comedian was able to perform for ten nights in the "Radio City Music Hall" in New York.
By 2015, he then proceeded to appear in Spike Lee's musical drama "Chi-Raq". It was his first acting role since 13 years ago. Chapelle also made a deal with Netflix back in 2017 where they'd release a few new comedy specials with a $20 million price per special.
Awards and Achievements
With the comedian's continued success in his career, he was able to grab a lot of awards like when in 2018. He was able to win several Grammy Award for "Best Comedy Album" for his Netflix specials, and "Outstanding Variety Special" for his "Equanimity" special. 
By 2019, Chapelle received the "Mark Twain Prize for American Humor" which was given by the Kennedy Center for Performing arts.
Total Net Worth of Dave Chapelle
Dave Chapelle currently has a net worth of over $50 million dollars.
This was due to his overall success from his stand-up comedy shows and television appearances and the "Chapelle's Show". Though currently, the comedian's main source of income is from his Netflix specials.
Dave Chapelle's Personal Life and Family
Dave is currently married to a Filipino named Elaine Mendoza. They were wedded back in 2001 and had two sons, Sulayman and Ibrahim, and a daughter named Sanaa. They're currently living in a 65-acre farm in Yellow Springs, Ohio.
He also converted to Islam in 1998 and has been joining and organizing charity works. Samples of these are the "Gem City Shine Charity Concert" in 2019.